My site has suffered a penalty: what should I do?
My site has suffered a penalty: what should I do?
A website can register a downgrade or a penalty shortly after an update of the core of Google's algorithms or even after the release of one of these.
This happens when the site has been created / optimized by implementing practices that do not adhere to the search engine policies and are recognized by it as such.
This can happen both immediately after performing an operation incorrectly (for example a migration) or after several months, or even years.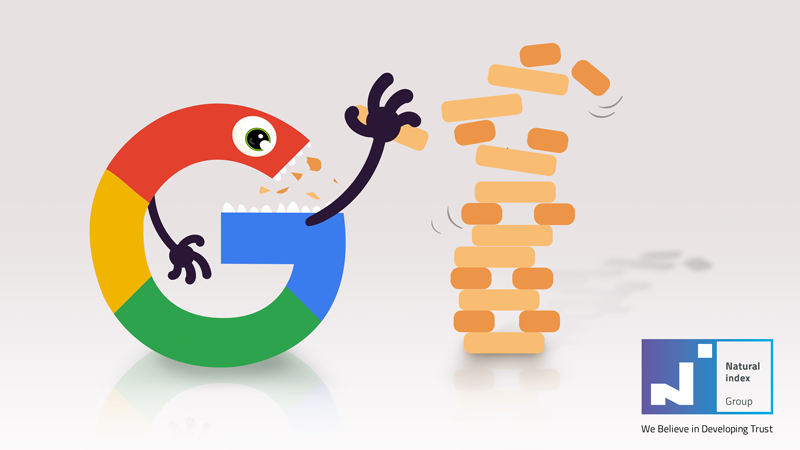 The intensity of the penalty imposed varies according to the degree of severity of the engine policy violation and its effects can be identified as:
A decline in organic rankings;

A drop in the number of keywords for which the site is indexed by Google;

A consequent drop in organic search traffic.
In such cases it is important to immediately recognize the downgrade phenomenon and activate in-depth analyzes and consequent optimization activities, aimed at completely remedying the problem.
The deep knowledge of the dynamics of the algorithm of Google within the Natural index Group team, also matured with the optimization of websites of large multinationals, translates into a 100% success track record of the websites and web portals on which we intervened to recover from algorithm penalties inflicted by the search engine.
In cases of penalization, it is the practice of Natural index Group to proceed with the following steps:
Traffic analysis from Analytics and other tracking systems;

Analysis of historical data of tools for tracking organic positioning by keyword;

Analysis of seasonal research trends;

In-depth technical analysis of the website and identification of any possible critical issues and support to the software house in resolving them;

Search Console data analysis;

Simulation of crawling carried out by the search engine with specific software to understand if there are criticalities in crawlability by bots;

Web server log analysis;

Verification of performance factors with Google Lighthouse and with Page Speed ​​Insight;

Analysis of backlinks, HTML tags and all possible on-page and off-page factors that could have contributed to the penalty.
In cases of penalization, an articulated and complex investigation is required, which requires the ability to identify the indirect signs of the problem, and on the basis of these signals, build feasible scenarios and working hypotheses.
If your website has suffered a penalty, contact us by sending the URL of the website to be analyzed for an immediate quote.